Gary Burnison considers leadership to be a privilege. Most people like the idea of leadership but few count the cost. He says;
"To lead is to be all in, transparent and accessible, calm in the face of upset and even crisis, and always mindful that you are a steward of something bigger than yourself."
That's not easy. To whom much is given much is required. That's the part that easily trips us up.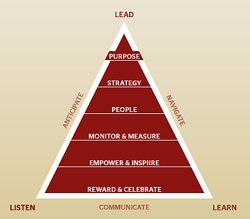 The "Absolutes" are building blocks that must be present regardless of your leadership style or approach. Here are the 12 Absolutes with Burnison's thoughts on each:
Lead. Anchor yourself in Humility. Leadership is an all-in proposition. Never react; instead ask yourself: is this about me or about we? If it's the former, forget it and rise above.
Purpose. The why. Purpose must have a long shadow, extending its influence over others.
Strategy. Strategy starts with the results of today. Strategy, rooted in values and purpose, gives encouragement through times of ambiguity and uncertainty. Strategy without purpose and values is a short-term plan that is directed toward shallow goals.
People. When you.re the leader, it's never about you, but it starts with you. The leader can't be the star player, scoring all the points. (Although many try to do just that.) Set high expectations for your team members, and help them to see what they can achieve.
Read More